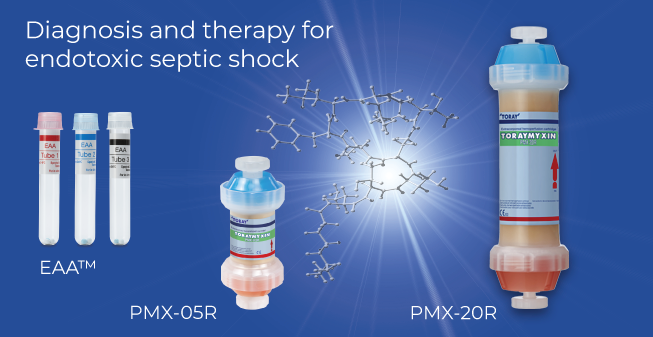 TORAYMYXIN®
State-of-the-art therapy for patients with endotoxic septic shock
Septic shock is associated with a high mortality and a significant economic burden to the sanitary system. Endotoxin is the most potent trigger of the septic cascade and during the progress of sepsis, endotoxin levels can increase up to 1000 fold, even when cultures result negative for Gram-negative bacteria.
Toraymyxin® – Polymyxin B hemoperfusion therapy – from Toray Medical Ltd. (Japan), is the state-of-the-art therapy for endotoxin removal in septic shock patients. More than 200,000 patients have been treated with this innovative therapy and more than 400 peer-reviewed articles have been published, demonstrating the beneficial effects on hemodynamics, organ function and mortality. Toraymyxin® is now available in two versions: PMX-20R device for patients with adult body volume and PMX-05R device for patients with reduced body volume.
EAA™ – Endotoxin Activity Assay – is the only FDA approved diagnostic assay to detect endotoxin activity in human whole blood. The EAA™ diagnostic test is performed in less than 30 minutes. EAA™ is the diagnostic assay to identify patients with endotoxic septic shock.