Today, on October 11th 2019, we celebrate our company's 20 years anniversary. On this occasion, we would like to thank our customers, partners, collaborators, and all those who believe in what we are working so hard to accomplish: EXCELLENCE IN HEALTHCARE. We appreciate your continued support and look forward to an exciting future!
---
Here we bring a message from our President and Founder of ESTOR, Dr. Federico D'Avanzo:
20 YEARS OF CHALLENGES AND NEW PROJECTS
ESTOR was born on October 11th 1999 as a spin-off from HOECHST MARION ROUSSEL, founded by Professionals and characterized by the Products that had determined its success on the market.
The 17 people involved in this delicate transition from a large pharmaceutical group to a small medical device business have, since their first efforts to establish the unique biomedical technologies of the Japanese giant Toray Industries in Italy and abroad, been distinguished by a professional style built on passion, in-depth knowledge and solid experience.
After 20 years of continuous activity, our corporate family celebrates its anniversary having doubled our staff and showcasing a constantly evolving product portfolio. The Founders have traced an ever deeper path in time from the affirmation of the Company and its Products in Nephrology and Interventional Cardiology to Critical Care.
The increasingly complex healthcare reality and the more competitive market have imposed a growing pace of innovation, also for ESTOR. ESTOR has responded diligently by transforming itself from a company of only commercial distribution to the development of its own devices, evolving from a predominantly disposable medical device supplier to a global supplier of electromedical equipment, consumable medical devices and services.
Today ESTOR can celebrate its anniversary knowing that it has been able to successfully integrate the work of professionals with very different professional backgrounds and knowledge, to have been able to face the challenges of new segments of the Italian healthcare market – an example of this is the proprietary PROLUNG® device also directed to the specialists of Pneumology – to have been able to export its business model to other European countries on behalf of the Toray partner.
Furthermore, we are proud to announce the introduction in Europe of new products HEMOFEEL™ and INTENSA®, enhancing our contribution to innovative Acute Blood Purification Therapies.
In short, a precious, competent, expert and close-knit professional family on which I, as President, trust to count on now and in the future of the company, to reach our ambitious company goals.
Together with all my esteemed colleagues of ESTOR, I finally thank all our customers and supporters who every day grant us their trust to support them in the care of their patients.
---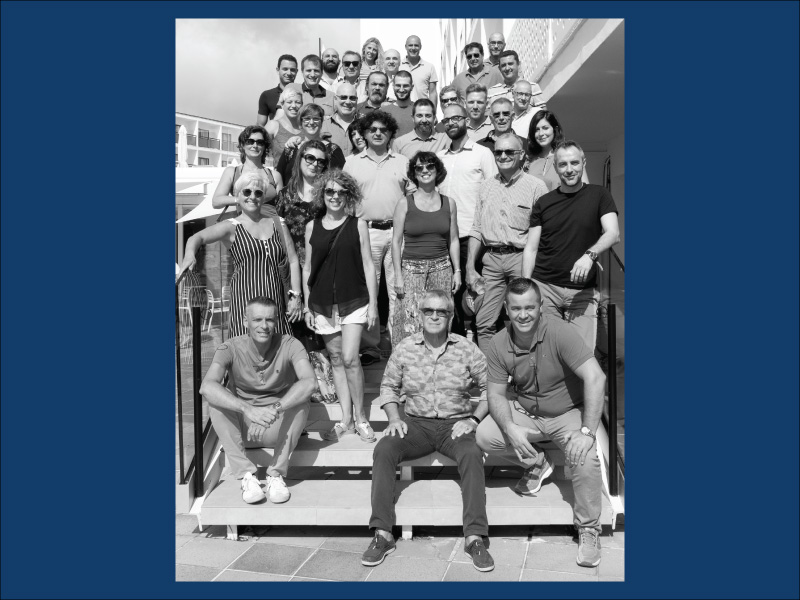 Group photo from a recent company retreat in Ibiza. Four days of meetings, team-building and regeneration to return with even more determination to meet future challenges.
---